Study Programs
International Standard
As part of international efforts to create a European Higher Education Area, a two-stage, internationally recognized education system consisting of Bachelor's and Master's degree courses is being established in Germany. This allows the transfer and recognition of studies throughout Europe.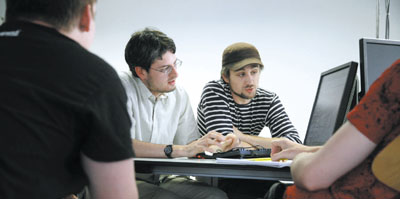 The Computer Science Department at Freiburg University was one of the first German institutions to introduce the new, future and research-oriented courses. Since the winter semester 2004/05, it has stopped accepting new students for the Diplom course in Computer Science, thus sending out a clear signal that it considers the new degree structure to be appropriate and fit for the future.
Work and/or Research
Students receive their first degree after three years of study on the Bachelor's course. They can then either go on to do a two-year Master's degree straight away or work for a number of years before returning to do the Master's course and perhaps even a PhD. This makes it a lot easier for students to plan their professional development to suit their personal circumstances.
Aptitude Test and Re-entry
The Computer Science course places high demands on students' ability to think systematically and analytically. To find out whether you are suited for the course, you can test your aptitude in an online-supported self-assessment test provided by the University of Freiburg.
An above average Bachelor's degree qualifies to study for a Master's degree. In order to give applicants who have been working for a number of years and overseas students the opportunity to study for a Master's degree, an individually tailored teaching program is prepared for each student, which is also designed to fill in any gaps in the fundamentals of the subject.