Infrastructure / Campus
The Department of Computer Science is located on the new campus of the Faculty of Engineering. This campus is ideally equipped for students. The short distances between buildings, long opening hours, state-of-the-art technical equipment, and extensive e-learning opportunities provide flexible working conditions.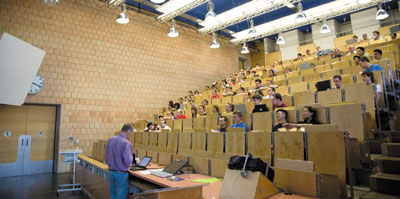 In addition to the faculty's administrative offices (Dean's Office, Examinations Office, Technology Transfer Office, Graduate Office), the faculty library, and the student cafeteria at the airfield, we also provide students and researchers with a wide range of classrooms and labs with the latest equipment. We also have two large multimedia lecture halls..
The university network can be accessed from anywhere on the campus. There are over 60 workstations available in our computer labs, using the operating systems Sun Debian [GNU/Linux] and Windows Vista. 42 WLAN access points are located all around the faculty campus.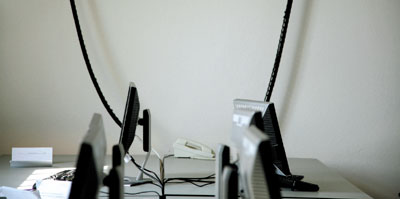 Other University of Freiburg facilities—including the University`s IT Services, the Institute of Mathematics, and the University Library—can be easily reached by bicycle or public transportation. A local train runs from the station "Neue Messe / Universität," located directly next to the campus of the Faculty of Engineering, to the main train station ("Hauptbahnhof") every half hour. The journey takes only 4 minutes.
Freiburg offers ideal conditions for computer. Located right next to our campus is the Fraunhofer Institute for Solar Energy Systems, Fraunhofer Institute for Physical Measurement Techniques, Fraunhofer Institute for High-Speed Dynamics, and Fraunhofer Institute for Applied Solid State Physics, as well as the Max-Planck Institute for Immunobiology, the Solar Info Center , and BioTechPark Freiburg.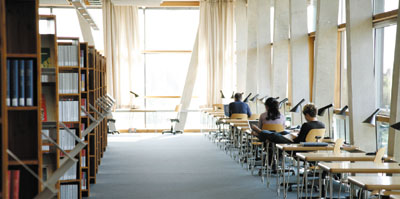 The campus not only offers a variety of research and learning opportunities, there is much to do here in your free time as well. The lawns around the buildings are popular for taking long lunch breaks and playing Frisbee in the summer. We also have a soccer field and a basketball court on campus.